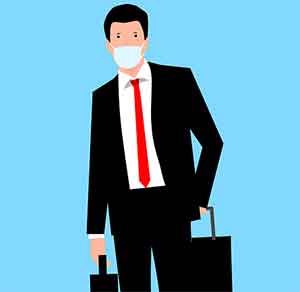 Change In Perspective - Need Of The Hour Post Pandemic For Business Growth
The global economy has been stressed beyond words on account of Covid and the prospect of returning to normal, pre covid mode seems far-fetched. The pandemic has exposed businesses of their inconsistencies and their capacity to adapt to changing trends on a global scale. It is a historical truth that every recession is always followed by a boom in industrial growth with new techniques and approaches. This Pandemic has exposed your businesses shortcomings as follows:
Inefficient strategic approach – Your business model failed to adapt to demanding situation
Lags in technology usage – You failed to incorporate adequate technology
Partial digitalization – You are behind your schedule in complete digitalization
Treating Covid as a "blessing in disguise" to change your business model seems the only way to move forward. One may not know how strong they are unless "Being Strong" is the only option they have and covid has put every business in this emergency mode.
Lets Decipher the Impact Of Covid To Prepare Our Fail-safe Approach for Future
The traditional business decline is defined either by the shortage in supply or the demand but covid has achieved both simultaneously.
Demand: The ability to buy has decreased in the past 18 months due to Covid. The social distancing rule and the fear of getting exposed to covid has reduced the consumers to venture out to buy anything. The main impact is the pathetic financial status of the consumers to spend on goods, even on essential commodities.
Supply: The production industry has largely failed due to continuous lock downs due to covid. With the already existing goods not moving out of their premises due to zero demands and their investment capital is stagnant without production activities, it is literally chaos into play. Further without a clear cut look into the future of future waves of Covid no one is willing to take risky maneuvers in their businesses.
Are You Prepared To Tap The Market Potential Post Covid Economic Boom?
How can we prepare our business to run smoothly post Covid era without any dip in output ?. Change in approach – that's the magic rule. First agree to the fact that there is no returning to normal. It is going to be the new normal and that means a new approach.
The following are the advantageous approach points to handle your business post covid:
Target: Covid has given you a definitive target to achieve and maintain
Time: You have to double up to bring you back to track to cover for the losses you had
Technology: How to bring digitalization in your business wherever required
Discipline: Success is directly related to discipline and that applies to your business too.
Understanding Your Contribution to Your Economy
How are you contributing to your economy defines your post covid business strategy. Covid has removed your competition in business who had lesser intent and organizational strength than you. You can concentrate now on the government subsidies, that are more likely to happen, as listed below:
Upcoming tax rebates
Banking rules and relaxations for finance
Infrastructure improvements
Changing your pre-covid strategies to more measurable approaches adapting to the current scenario is the best idea to cover for your loss during the pandemic and to take your company to the next level at the same time. Small tweaks to the existing procedure will result in consistent output similar to pre-covid times.
Good time to diversify your existing platform:
Analysing the past 18 months it will be profitable to take on any business niche that has very little competition.It is a good time to acquire any business that operates on an average level if you have sufficient funds to infuse and make large profits on the longer run. Alliances and mergers will have a good future as the combined efforts will always be fruitful.
Selecting the market and the goods:
Going for large volumes of small goods with low cost but good quality will result in huge revenues in the upcoming boost post pandemic. Investing in these areas is fail safe as you can easily make a plan B with small goods if all predictions go wrong. 
Marketing and Human Resource Management:
Investing a considerable amount of your capital in marketing your brand will definitely have good results as everyone will be having fresh plans post covid and a new brand in the industry will definitely have a warm welcome. Your existing manpower will feel a fresh lease of life if you have persisted with them and managing them with good pay results in good quality of work.
Innovating And Digitizing Your Product:
Business models are moving online reducing human interaction and hence this is the good time to completely digitize your business if you haven't done it already. Rapid market changes require an agile company to keep up with them and hence investing in innovation will provide huge benefits in the longer run.
Ensure that your trust factor among employees and loyalty factor among your consumers are at an all time high during this pandemic times and never compromise on them. All the successful business components are directly dependent on these two factors. Being reliable to even your competitors is a vital tool to establish supremacy in your business post covid.